Our partner is a high-tech productivity software suite that allows groups of people to collaboratively create and edit documents, spreadsheets, and presentations. This software is typically used for business purposes. They combined documents, spreadsheets, and communicative features to help teams get work done faster and smarter.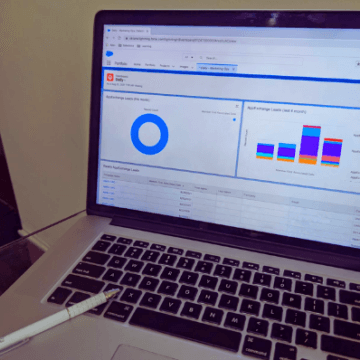 Challenge: Build a custom Salesforce training org
Our customer needed to find a way for their internal users to register to a Salesforce org and complete a form that would allow them access to a Salesforce developer org configured for training.
Solution
Our developers created a self-service registration site that allowed our partner's internal users to register by completing a form. After the form was correctly submitted, they received their corresponding credentials to safely log into the org.
Once the user logged into the custom org, they would access a video introduction explaining the tasks they had to complete in this org. This org works as a training space for our partner's employees to get used to working in Salesforce. They can familiarize themselves with the tools they need, like objects, records, and cases.
Our team has also built a reporting system with a dashboard where managers can track the user's progress and see their login and logout times, as well as the tasks they have completed.
The technologies used for this project were Salesforce Lightning web components, JavaScript, CSS, HTML, Lightning components, Apex, Visualforce pages, as well as flows and reports.
Results
Our team of developers is pleased to share that they have met all deadlines while fulfilling all of the customer's requirements. This custom Salesforce training org project is considered a complete success. Currently, our team is working on the second phase of this project.
If you want to know more about Oktana's solutions, read about our services and experience our customer stories.