This year marked the 20th anniversary of Dreamforce and Salesforce spared no expense making it one of the most highly anticipated tech conferences in the country. This Dreamforce was the first in-person conference that Salesforce has held since the start of the pandemic. More than 40k individuals attended the annual conference in San Franciso and over 150k streamed the event online. During this annual event, Salesforce delivered significant tech innovations and product announcements that will surely mark a new chapter in their history.
As you can see, over the last years, Salesforce has released innovations to the Salesforce ecosystem, and they will continue to.
Salesforce Genie: Real-Time Data Integration across all Clouds
What is Salesforce Genie?
David Schmaier, Salesforce President and Chief Product Officer described the launch of Genie as "The most significant change to the Salesforce platform in the company's history."
Salesforce Genie is a new Customer Data Platform (CDP) that offers the ability to provide highly personalized customer experiences hyper-scaled to every single part of your business in real-time.
Organizations use many applications to run their business resulting in customer data being disconnected which can make customer experiences repetitive. Genie combs data sources across applications, ensuring teams will have every piece of customer information available at any point it's needed. 
Genie is more than just a data integration layer. Natively built within the Salesforce platform, it combines Einstein AI, machine learning, and the Salesforce flow. It opens up all kinds of automation possibilities by allowing data to flow faster and more freely. 
Salesforce Genie's Main Characteristics
Connect all your data and historical data sources in real time.

Salesforce Genie

democratizes access to real-time data across every cloud. It enables all your teams — across sales, service, marketing, commerce, and more — to adapt their experiences in real-time to whatever is going on in your customer's world.

With harmonization built-in, Salesforce can resolve all this data into a single view of the people behind it and create a real-time Customer Graph of all your customers or interactions. 

Salesforce Genie stores all this data using a lakehouse architecture. This makes it easier to categorize and classify the unstructured data that businesses rely on; as a result, Salesforce Genie accesses all this data faster and puts it to work for you.
To understand this new platform, look at Salesforce Genie Trailhead.
Slack Innovations
Transform Productivity with Slack Canvas
Slack canvas is a new surface in the digital HQ that will transform how teams can organize and share critical resources. Slack canvas saves time by helping workers find essential information quickly within Slack chats. This new tool will be available next year. 
Ali Rayl, Senior Vice-President of Product Management at Slack, commented: "Canvases enhance the real-time collaboration you have in Slack channels by offering a set place to organize and share information of any kind in ways that make people more productive and efficient."
Some Slack canvas features:
Sharing essential files, such as account plans, executive briefing docs, and team contacts

Creating a curated list of relevant channels the team needs to reference to support their account 

Implementing common workflows, like reporting a customer issue to an engineer or approving requests

Accessing opportunity data from Salesforce Sales Cloud, plus usage and spend data

Create a snapshot of all the data teammates need, code-free. 

And much more!
New Slack Huddles Feature
Huddles enhance virtual conversations and optimize how the teams collaborate and make decisions without leaving Slack.
Slack Huddles New Capabilities:
Multiperson screen sharing, drawing, and cursors

Emoji, reactions, and stickers

Information shared during a huddle gets automatically saved in the channel or DM 

And much more!
Purchase Carbon Credits through New Net Zero Marketplace (Coming Soon!)
Now in the Net Zero Cloud, you can find Net Zero Marketplace, a climate action hub and a trusted site for organizations to purchase carbon credits. You can sign up to be the first to know when it goes live. For now, only organizations based in the US will be able to make carbon credit purchases initially, to soon expand to additional regions.
These were some of the latest Salesforce innovations, take a look at the Dreamforce 2022 Main Keynote to learn more details:
Dreamforce & The Oktana Team
As we mentioned in our Dreamforce guide, the Oktana management team was present at Dreamforce. We chatted with multiple companies about Salesforce technologies, languages, frameworks, and ways we could help them with digital transformation. 
If you couldn't schedule a meeting with our team, you can email us at [email protected] to get in touch.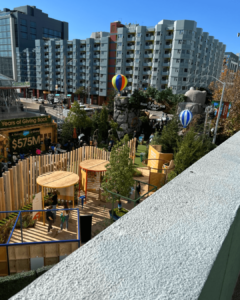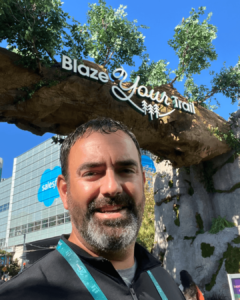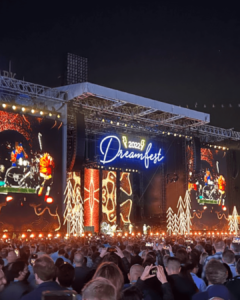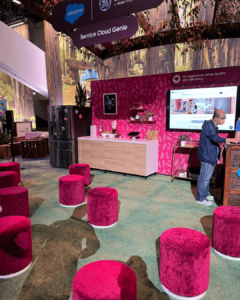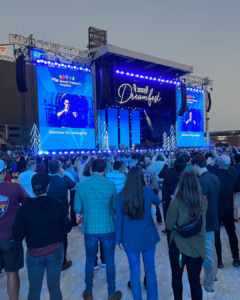 The announcements made at Dreamforce 2022 will impact the organizations positively. As a Salesforce Summit Consulting Partner specializing in Service Cloud, Experience Cloud, and development across the Customer 360 Platform, these innovations help us enhance businesses to accelerate their growth.