How we experience time is one of the most visible changes brought by the pandemic. New resources and tools require us to adjust to more agile ways to collaborate and do business. That's why we created Oktana Calendar, our latest Lightning web component that helps you manage your events and meetings without leaving Salesforce. 
Think of the business meetings we all used to have before the pandemic. Decision-makers moving around the city to meet their peers in a corporate meeting room. Leaders would sit down around a table with a presentation (in most cases) to support their speeches. Business cards for appropriate introductions and handshakes to close deals. All of that is gone, but don't be discouraged. Even if we miss the on-site conversations and meetings, there is a potential advantage we can leverage in remote work. Let me introduce you to Oktana Calendar, our digital solution to enhance time management across your team.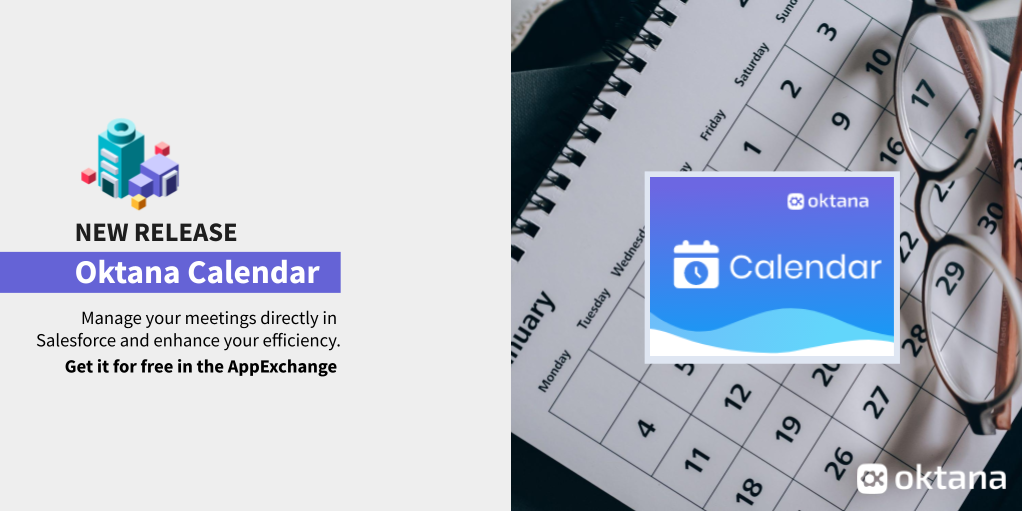 Oktana Calendar is simple to install and embed
As with all of our Lightning web components, Oktana Calendar is simple to install. Just go to the AppExchange and follow three steps. Once installed in your org, the embedding process is also easy to do. As a stand-alone component, you can embed Oktana Calendar on any home page or app page. Just go to the Lightning App Builder, drag the component, and drop it where you need it. Simplicity and flexibility are part of this component. 
Better layout, more flexibility
"As a Lightning web component, Oktana Calendar can be added to any home page in Salesforce. Also, Oktana Calendar offers different views. Users can change from one to another according to their needs with one click"

Fernanda B. – QA team @ Oktana Uruguay
Oktana Calendar lets you take your team beyond the default calendar component in Salesforce by giving you more flexibility. Your team will be able to have a standard calendar view arranged by month, week, or day. If you feel more comfortable with an agenda view, Oktana Calendar also supports a list view of your meetings. Your team will be able to track their meetings and events in Salesforce, which will be certainly reflected in your company revenue report.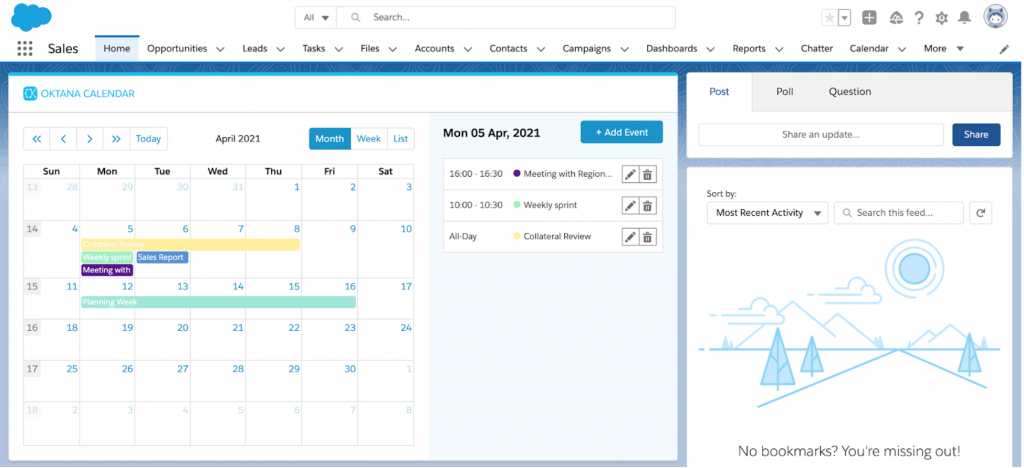 Manage your events
Your events, your rules. You control the way you want to see them and the way you want to organize yourself. As we mentioned before, Oktana Calendar can be set monthly, weekly, or as a list of meetings. It's up to you. You can organize your events with color-coding as you can with other external calendaring apps. The most important details are also supported: Start date and time, end date and time, location, and of course a brief description to have a general context. For those who are busy, we highly recommend setting notifications to never miss an event.
"Oktana Calendar allows you to set notifications in your org to track your events and users can customize color tags to arrange their events the way they feel more comfortable. I think both features leverage the built-in Calendar component of Salesforce"

Salvador C. – Developer @ Oktana Peru
Time management is crucial in this "new normal" and having the ability to manage your meetings from the same platform you're already using gives you an advantage you definitely want to take. Install Oktana Calendar for free and give your team an intuitive and flexible resource to manage their business meetings and be more efficient.