When you outsource development, nearshore or onshore, you probably wonder about resources and whether they're going to work well with your internal team. At Oktana, we consider our team to be your development team. We take pride in working to get the right help for each project, whether it's a designer, developer or a whole team. Many of our clients even choose to continue with the same team on multiple projects.
Let's take a look at how resourcing works at Oktana.
Step 1. Gather data
First, we need a clear picture of your company and project. Your account manager will work with you to understand skill requirements, project scope and anything else you feel is essential. For example:
Will we work alongside your internal team?
Will we need to integrate with existing systems?
Are there preferred development platforms, frameworks or languages?
Is business analysis, design or test automation part of the scope?
We work with you to define "done" for the project. We are an Agile company, so this often means defining a minimum viable product, or MVP. These conversations help us determine a reasonable start and end date for the project.

Step 2. Select resources
Now that we have an idea of your needs, our resourcing team will build your development team. We want to ensure your team brings the skills to meet all of the technical requirements for your project. We also want to ensure they're a good fit in terms of personality and experience.
Everyone should feel confident in their ability to work together.
Step 3. Review resources
As our resourcing team builds your development team, you have a few options depending on how involved you want to be in the process. You can let us handle the entire process, or you can be far more hands-on.
If you want to be more hands-on, we'll work with you to review a set of developer profiles. You can also conduct developer interviews to meet each team member before you sign-off on your development team.
What's a developer profile?
Our resourcing team compiles a developer profile for each of our developers, which provides you with a good overview of their skillset, certifications and experience.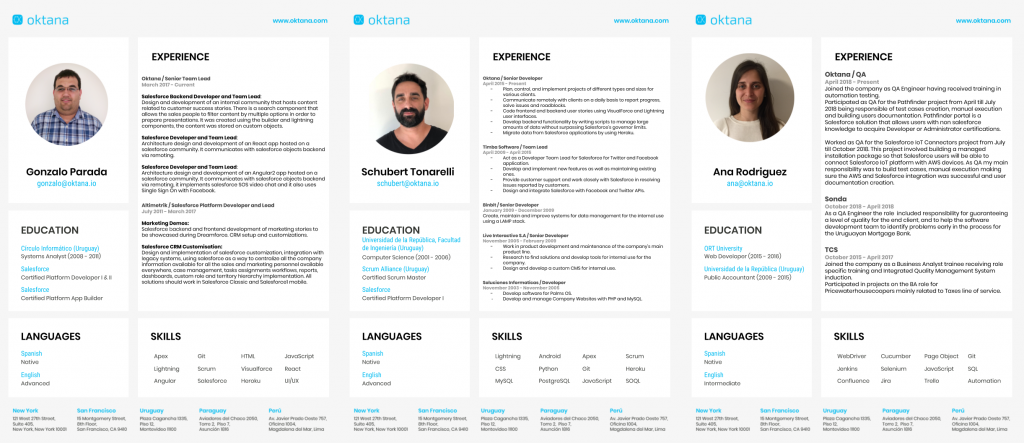 Step 4. Meet your development team
Our teams receive English tutoring and overlap with most of the US workday. Because of this, you are always able to chat or run planning sessions, review specs and do demos face-to-face by video. This is your development team.
As your project grows, or requirements shift, your account manager will work with you and our resourcing team to adjust the team to meet those needs.

We hope all of this information helps you understand the resourcing process better and by extension how our teams work. Our team has worked with different organizations and their projects. We are Salesforce platform experts and offer custom development to help you build your platform and solve the right problems. If you want to know more about our work, go check out our latest success stories.