Akamai is the leading intelligent global platform that empowers customers to build a fast and secure digital presence. In keeping with their customer mission to provide the world's top companies with this resource, the next step was to offer a way in which their customers could seek out additional educational resources. Akamai Launchpad is the "Big Bang," where everything begins.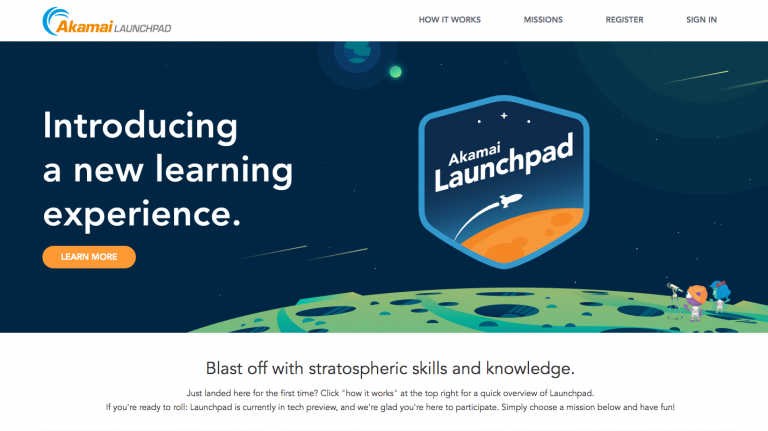 Need: Open-Source Learning Management System
Akamai and the Oktana team collaborated on this innovative project and have been fully invested in its success.
Akamai Launchpad is the fun, adventurous, and free way to increase your knowledge of all things Akamai. With Launchpad, you earn badges, gain points, and ascend to new levels by completing interactive missions and quests, each of which teaches you a new and useful Akamai skill. Along the way, Launchpad's friendly main characters, Ace and Zoey, are always there to help as you explore the ever-expanding Akamai universe.
Launchpad delivers content on an open-source learning management system (LMS), with an embedded code editor and file system, that connects to a free, personal version of Akamai. We enhance the experience using a sci-fi theme, interactivity, and gamification and store all their information in a student profile they can make into their public Akamai resume.
Using Akamai Edge we were able to inject custom behaviors, such as badge earning, to an existing LMS (Appsembler Tahoe and create a beautiful and custom user experience just for Launchpad. Akamai's technologies allowed us to bring everything together into a seamless, robust, and secure experience for the User.
Technologies and platforms used:
Akamai
EDX
Appsembler Tahoe
Heroku
PHP Laravel/Nova
Javascript.
Results
Akamai Launchpad was a rewarding, challenging, and successful project. In the first two months over 300 companies joined, and more than 1200 users completed missions, which is pretty impressive!
Read more about our Learning Management System Solutions. Check out our services and request a quote.