Dreamforce starts next week, in just 5 days. If you're new to Salesforce, you may not know about Dreamforce, the annual event that brings together the global Salesforce community for learning, fun, community building, and philanthropy. It's an experience where Trailblazers from all over the world gather to share their stories, their successes, and learn from each other.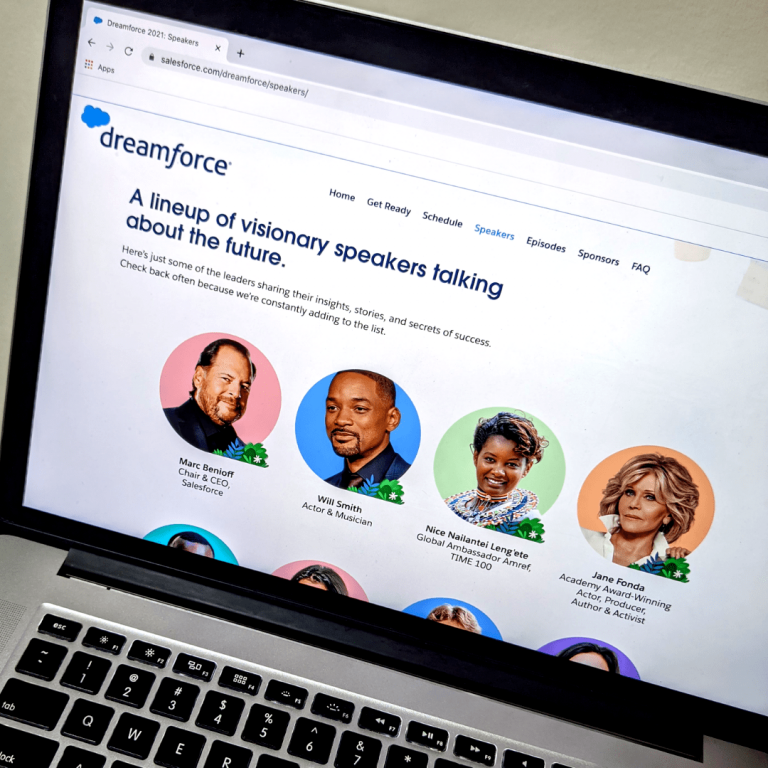 Why Attend Dreamforce
Salesforce is taking a hybrid approach this year, both on-site and online. Dreamforce 2021 takes place September 21-23, 2021, and will host select attendees in San Francisco, while the rest of the world will join virtually. 
Dreamforce will broadcast globally, for free on Salesforce+. There will be four live broadcast channels and 100+ hours of on-demand content. Salesforce is known across the industry for its excellent events. We highly recommend attending if you are working with Salesforce or would like to start learning more about it. There are four key reasons why you want to be a part of Dreamforce 2021. 
Learn. Transform your career with breakout sessions, training, and certification opportunities. Participate in cutting-edge demos. Meet new partners with solutions to help your organization grow.
Get inspired. The world's most innovative minds come to Dreamforce to inspire, excite, and motivate attendees every year.
Give back. Attendees help build diversity, inclusion, equality, and sustainability with action and volunteerism. Past organizations Salesforce has supported include Girl Scouts of America, RED, and many more.
Have fun. When Trailblazers get together, it's a party. And Dreamforce is the biggest one of all. Dreamforce is a celebration of the community.
Recommendations to attend Dreamforce 
Are you ready for three full days of non-stop events? There are many sessions and topics, that's why we have some recommendations for you:
Plan your time: One of the biggest challenges with a virtual Dreamforce will be that everyone is spread across different time zones. Dreamforce has everything you need, from session descriptions to calendar links. Don't forget to add the sessions to your calendar and keep track of what's coming. Take a look at the schedule and the episodes, so you can choose the sessions that make the most sense for your interests and responsibilities. During the three-day marathon, we recommend blocking off time to catch up on tasks and stay productive. 
To make your life easier, here are some sessions we recommend. Remember that if you cannot attend some sessions, they will be available later in Salesforce+.
Day 1: Tuesday, September 21 
Dreamforce Main Show: Trailblazing Together with Marc Benioff and Special Guests (12:45 p.m. ET)
Integrate Everything, Automate Anything with MuleSoft (1:00 p.m. ET)
Innovation from Anywhere with Salesforce Developers (6:30 p.m. ET)
Create User Experiences with Lightning Web Components (7:30 p.m. ET)
Develop Enterprise Applications with Apex (8:00 p.m. ET)
Day 2: Wednesday, September 22
A Special Conversation with Co-Founder & CTO Parker Harris (12:00 p.m. ET)
Build the Future of Business with Salesforce Architects (3:30 p.m. ET)
Architecting at Scale (4:30 p.m. ET) 
Unlocking Insights with Tableau (5:30 p.m. ET)
Day 3: Thursday, September 23  
Your Roadmap for Connected, Effortless Service (12:00 p.m. ET)
MuleSoft: Create Integrated Customer 360 Experiences (12:30 p.m. ET)
Fast and Easy Integration with MuleSoft Composer (1:00 p.m. ET)
The IT Leader's Guide to the Salesforce Platform Roadmap (2:00 p.m. ET)
Empower IT to Ship Faster with Functions and DevOps Center (2:30 p.m. ET)
Test your equipment. Make sure you have all the equipment ready and prepared for a perfect virtual experience. Test your internet speed, and have a backup source just in case. Also, prepare your laptop and phone chargers as well as grabbing additional cables in advance. You don't want to have your devices run out of power in the middle of a great session. 
Prepare your space: We've all been juggling working from home for months, so we know how easy it is to become distracted. The best approach is to find a space in your home that will let you focus on the event with minimal interruptions. Close that email, for example. We know it's tempting to multitask; avoid it if at all possible. Give yourself the time to focus on learning and engaging as much as you can. And some of those sessions may be early; make sure you have your favorite brew ready!
Whether it is your first time attending Dreamforce, the second time, or more, we are sure you will have a great experience!