Bullhorn Jobscience is a cloud-based recruiting tool made for in-house recruiters and built entirely on the Salesforce platform. From within the system, users can create job requisitions and automatically post them to their corporate career page and corporate social profiles, such as LinkedIn and Facebook.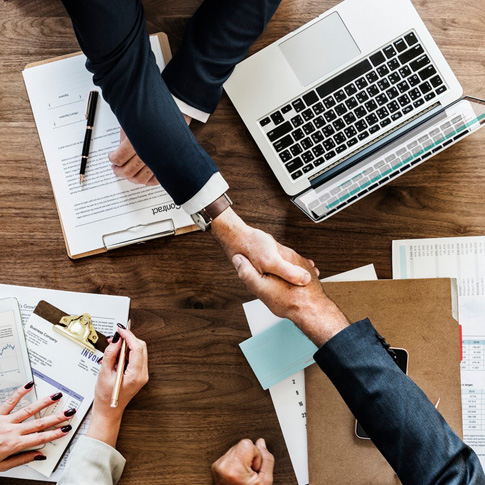 Need:Salesforce Lightning Mifration & Community Cloud Leverage
Bullhorn Jobscience needed to improve its user experience by implementing a suite of tools to enable them to easily scale up and create new job boards for customers.
Because Bullhorn Jobscience is built on Salesforce and listed on the Salesforce AppExchange, they needed a partner to help implement Salesforce Experience Cloud features to control user access and permissions. They wanted to give both recruiters and applicants the ability to track the status of applications over time as well as streamline the entire communication process including the ability to track all communications between each party. Additionally, to make the candidate selection process easier for recruiters and hiring managers, Bullhorn Jobscience wanted to implement an easy-to-use filtration system that would allow them to find the right candidates based on needs.
Solution
We partnered with Bullhorn Jobscience to evaluate their platform and determine the correct approach to rebuilding it. To enhance performance, we rebuilt the front-end by doing a Salesforce Lightning migration and utilized custom JavaScript libraries. We also implemented Salesforce user management and sharing models to enable secure control of user access and permissions.
To make the overall experience of the application more user-friendly and easier to access, we leveraged the community features within Salesforce Community Cloud. Through Salesforce Tabs and VisualForce pages, the Bullhorn Jobscience community was migrated using standard Salesforce solutions. The template changed the community to a modular application, allowing customers to only see relevant information dynamically within their community.
Results
Bullhorn Jobscience's existing application was redesigned and rebuilt to meet the requirements of a smarter and quicker recruiting platform, including an advanced system to filter candidates. Now, recruiters can easily find the right candidate with filters based on skill sets, location, and multiple other search criteria. These candidate filters can be saved, shared, and repurposed for future onboarding initiatives with other recruiters.
By removing the multiple portals needed to log in and replacing them with a single login portal with tabs, candidates are now able to easily navigate within a given company's community to search for a role, apply for positions, and complete timecards. Since the application leverages the standard Salesforce sharing model, the application is secure and restricts access to the profiles as dictated by the given company's system administrators.
We started working with the Jobscience team before acquisition by Bullhorn.
Read more about our Salesforce Custom Development Services.